Saturday, December 7, 2019 at 1:30 pm
Fun Group Ride with a social event at Amigos post ride.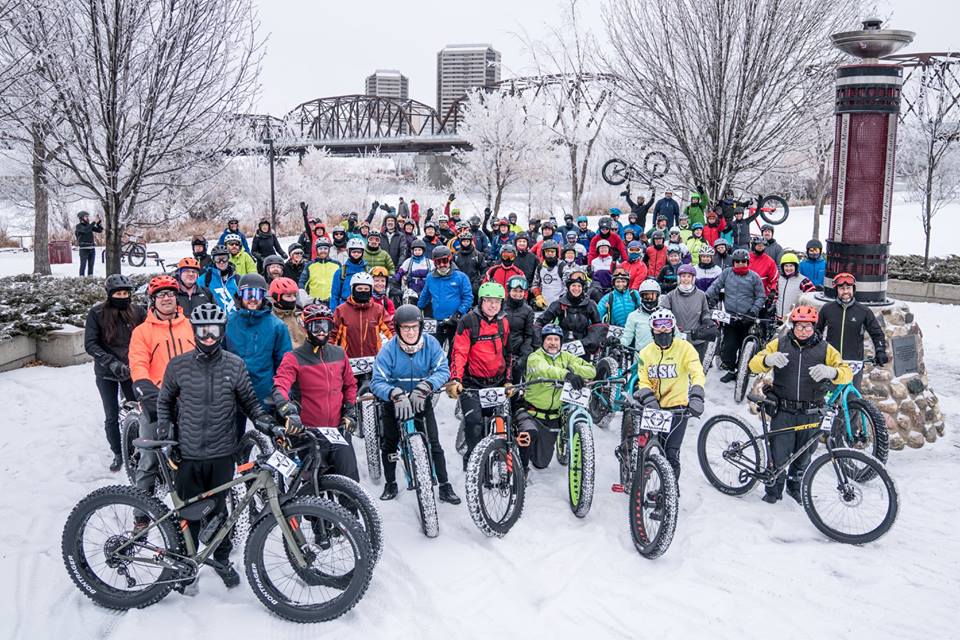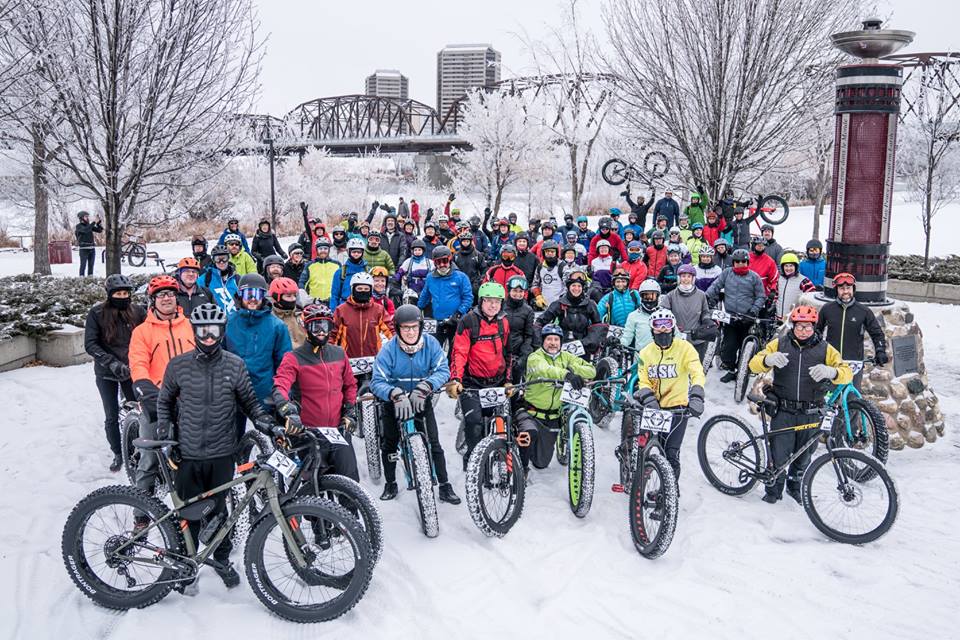 2018 Global Fat Bike Day (GFBD) set the bar at 95 participants – this year we are going over the 100 barrier!!! Plan to ride your Fatbike (or rent one from Bike Doctor, Bruce's Cycle Works, or Doug Spoke 'N Sport), or loan one from a buddy, in celebration of Global Fat Bike Day which is always the first Saturday of December. Saskatoon riders will join others around the world in this celebration ride.
RIDE PLAN
Ride plan will be to gather in Rotary Park down from the South base of the Victoria bridge to sign on at 1:00pm – please arrive in time to sign in and get your bike plate and be ready to ride for 1:30pm Send-off.
There will be something for everyone and every ability – from a wide double track roll along the Great Trail – Trans Canada Trail – to some narrow single track offshoots for those that want a more challenging route (weather allowing).
Note: washrooms in Rotary Park are seasonal and closed. Closed washrooms are across Victoria bridge at River landing (~2blocks away). Washrooms on course at Gabe Dumount Pavillion
Free event. If you have a blast and want to show your appreciation then a donation to the St Barbe (aka Man of the Trees) Winter Trail Network through Trailforks
https://www.trailforks.com/region/saskatoon/karma/would be greatly appreciated.https://www.trailforks.com/region/st-barbe-winter-trails-man-of-the-trees/karma/
AMIGOS POST RIDE SOCIAL 3:30 pm
Fuel up and have fun at the post ride social and funraiser at Amigos back room immediately following the ride. Great silent auction and raffle items related to 2020 fat biking events and winter riding you won't want to miss out on. Prizes supplies by:
Adventure Destinations International https://adventuredestinations.ca
Bike Doctor http://www.bikedoctor.ca
Bruce's Cycle Works https://www.brucescycleworks.com
Doug Spoke 'N Sport https://spokensport.com Duck's Unlimited Canada, Back 40 First Aid, The Soap Box Bath Company https://www.facebook.com/pg/soapboxbathco/community/?ref=page_internal&mt_nav=0&msite_tab_async=0
Fat bike parking on the deck but bring your own lock.
Check out the amazing video promo that Frank Collins of Danger Dynamite create from last years ride – wicked fun (Event photo credit also goes to Frank Collins) : https://www.facebook.com/DangerDynamite/videos/1071168073045438/UzpfSTY4OTg0NTQwMDpWSzoyMDkyODcwODYwNzMzODI3/