Grey Owls Cabin Trail – Prince Albert National Park

Prince Albert National Park has not been thought of as a destination for the offroad cyclists as not many trails allow cycling or are poorly maintained with recent cutbacks to parks funding.  Grey Owl's Cabin trail has long been known as one of the famous hikes to do in Saskatchewan but has only recently been opened to cycling. It is a 20km (one-way) rooty single track trail that makes for an awesome late fall early winter fatbike ride.
To reach the trailhead you drive northwest from the Waskesiu townsite on HWY 263 to Kingsmere Road and continue along the gravel until you reach the Kingsmere Lake parking lot – Map.  The trail passes along the rolling hills along the east side of the Kingsmere River and then eventually follows the Eastern Shore of the Kingsmere Lake around to the very northern edge of the lake where, after riding 800m of beach sand you will head north toward Ajawaan Lake where Grey Owls Cabin is situated.  It is an out and back and plan for at least 4-5hrs roundtrip journey under good conditions or a reasonably fit group.  Also note that there are no roads in to Grey Owl's cabins so plan your trip accordingly as this is a remote trail.  Be sure to stop to check with the Parks Office/trail conditions prior to riding the trail to make sure it is passable – if a strong wind or storm has passed through there are often enough downed trees (see images below) to make this voyage way less enjoyable.  Trail conditions here: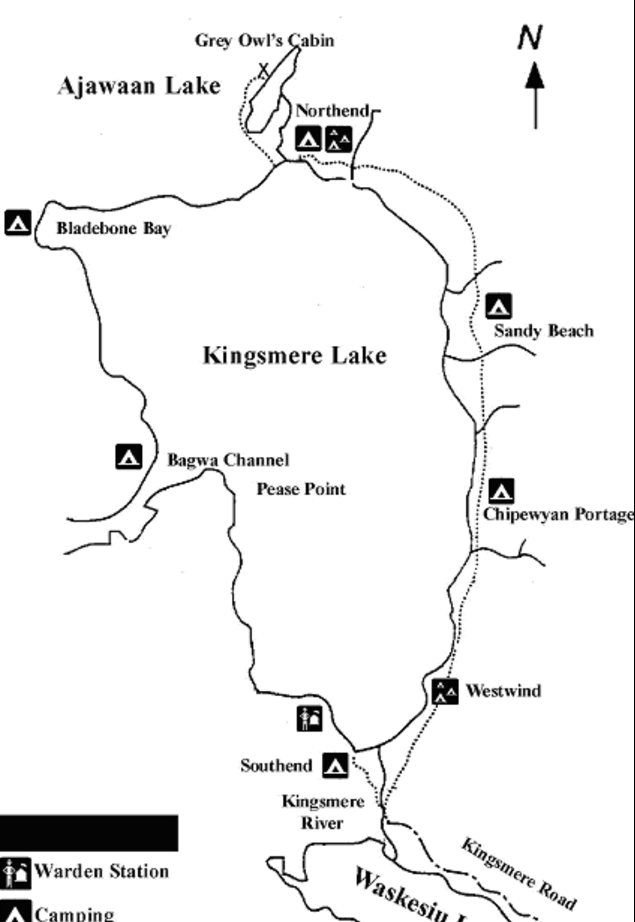 In late November 2015 the FatLanders FatTire Brigade with riders for Saskatoon, Regina, Tisdale and Radville made the journey up to Grey Owls Cabin – in all nine fatbikers completed the full 40km roundtrip.  Conditions were amazing for late November with unseasonably high temps hovering around 0C and a light skiff of snow on the trails to give it at least a bit of a wintery feel.  This was a great time of year to undertake this trip as the hungry insects of summer were long gone and the harshness of winter was not yet upon us.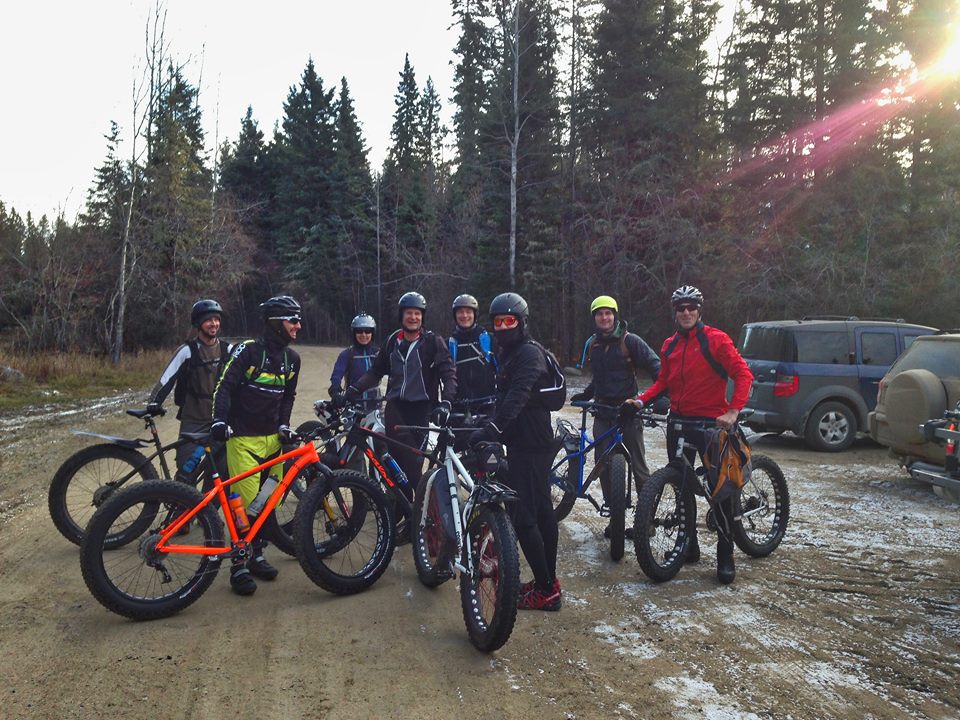 Photo credit Werner Oberholzer
The trail passes through a small backcountry campground approximately every 4km (Westwind, Chipewyan, Sandy Beach and finally Northend) that make for a nice place to take a short break.  The first few kms of the trail to Westwind campground are super fun technical rooty hilly single track that will satisfy the mtn biker in you.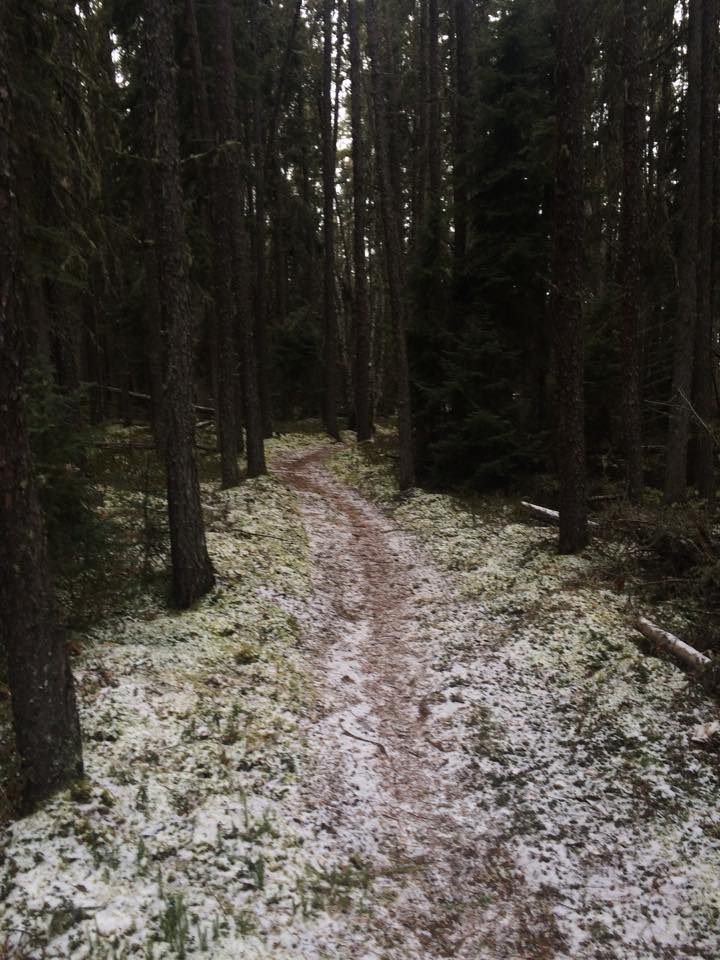 Photo credit Brad Kerr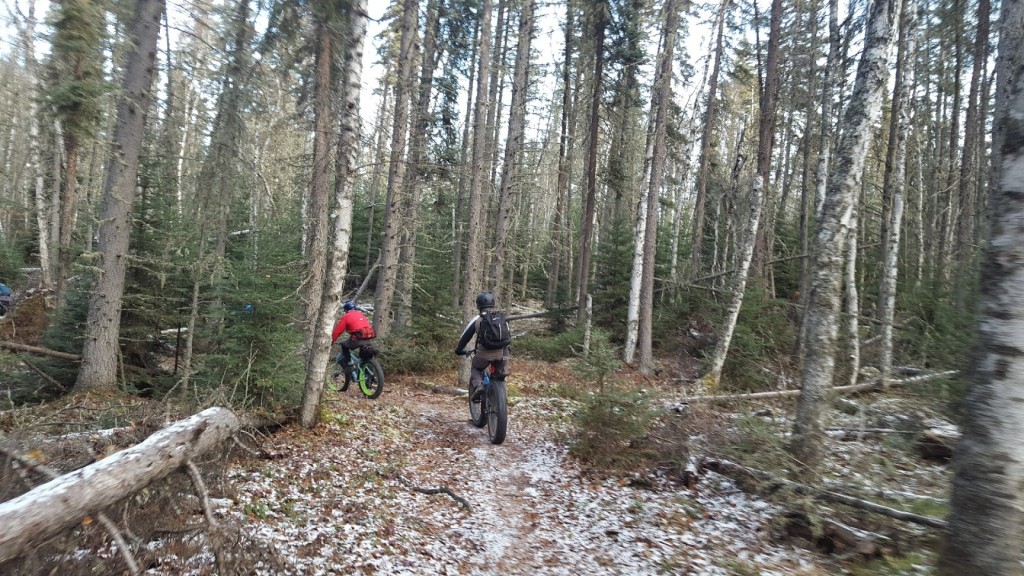 Photo credit Anthony Gossner
The first 12km of trail had been freshly groomed and it was evident that a lot of work had been done to clear the multitude downed trees from the trail – the evidence was really never far from site at any given time.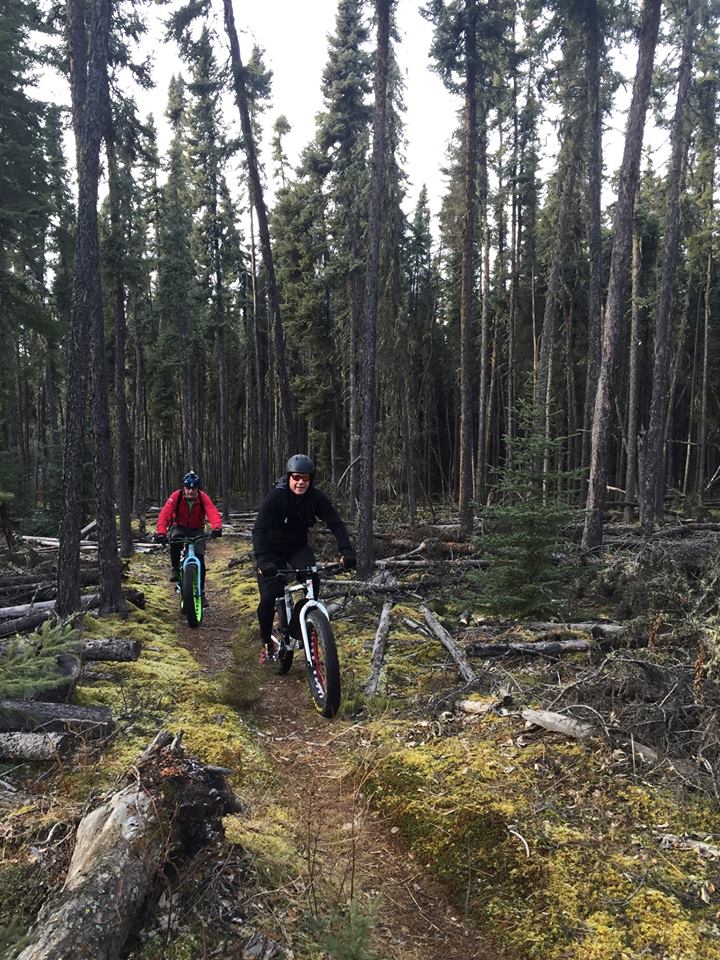 Photo credit Paul Buffel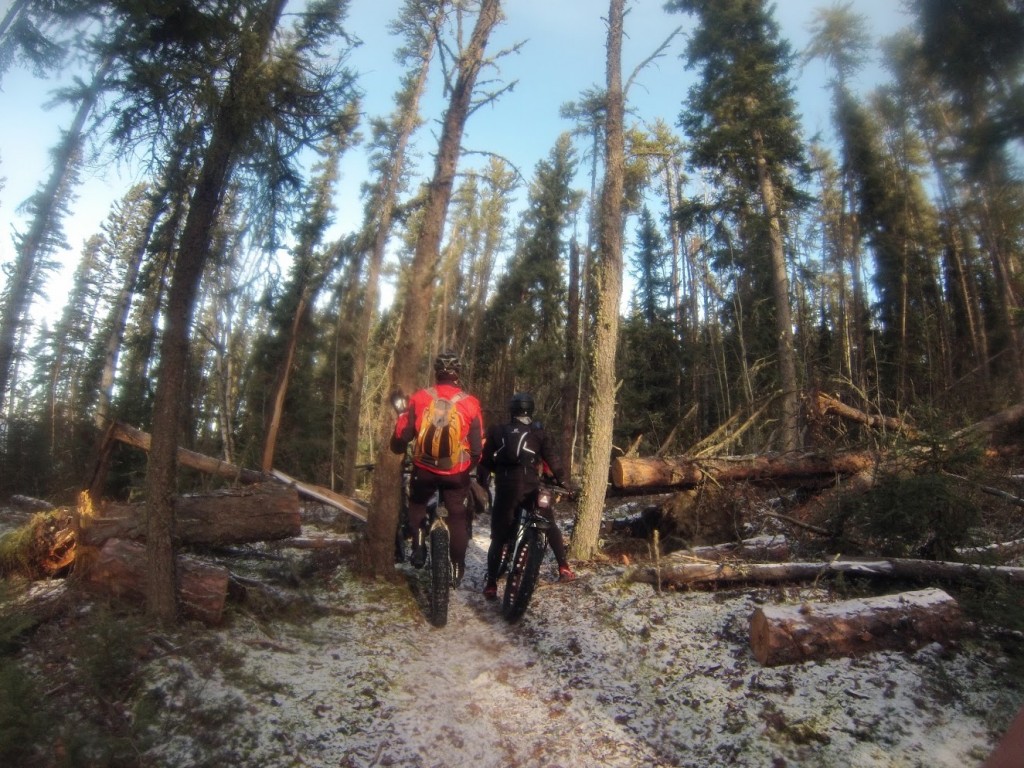 Photo credit Anthony Gossner
There are some great views of the lake as the trail winds along close to the shore once it reaches Kingsmere Lake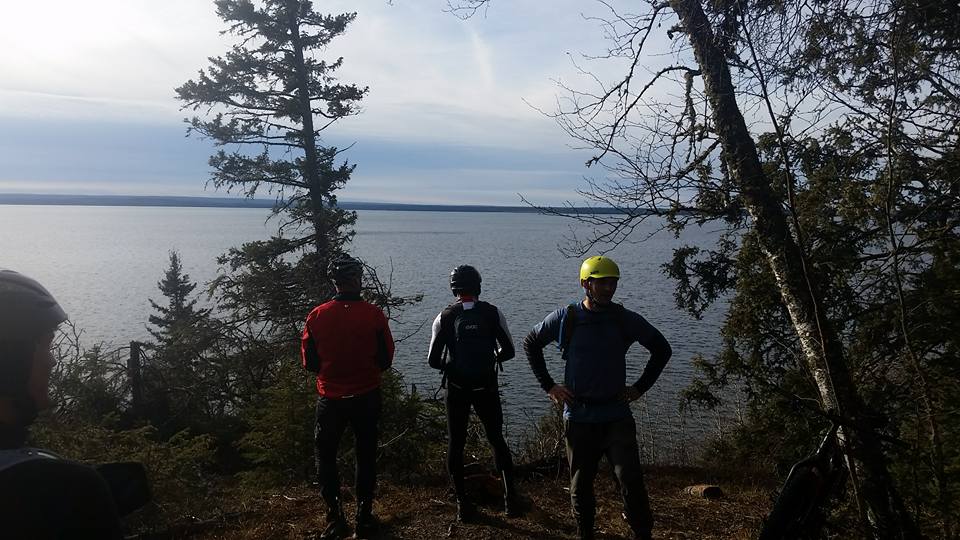 Photo credit Anthony Gossner
There are a number of boardwalks that are in variety of conditions (heaved, unlevel, ridges) that can present some technical challenges if you are wanting to fuel the inner free rider.  Below is an image of one of the more challenging obstacles faced on the way to the North shore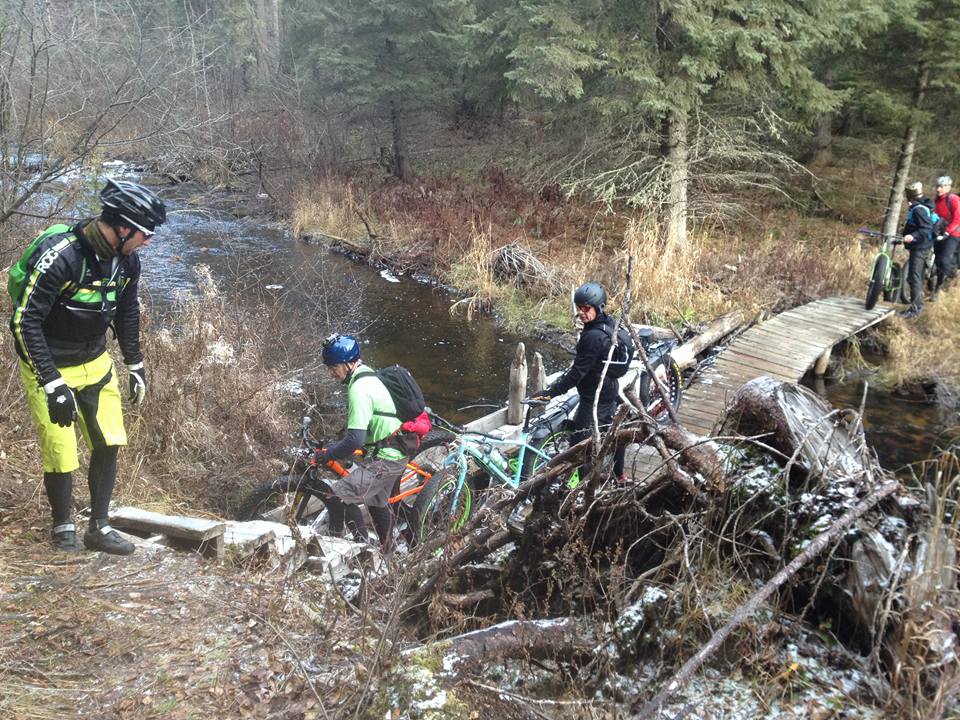 Photo credit James Christopher
The trail more-less disappears when you reach Northend campground.  A short 800m beach sand ride west of the campground is required to link up with the path that heads North to Ajawaan Lake.  This ride had all the elements of an awesome fatbike ride and the fact that we had to ride 800m of beach made it all the better.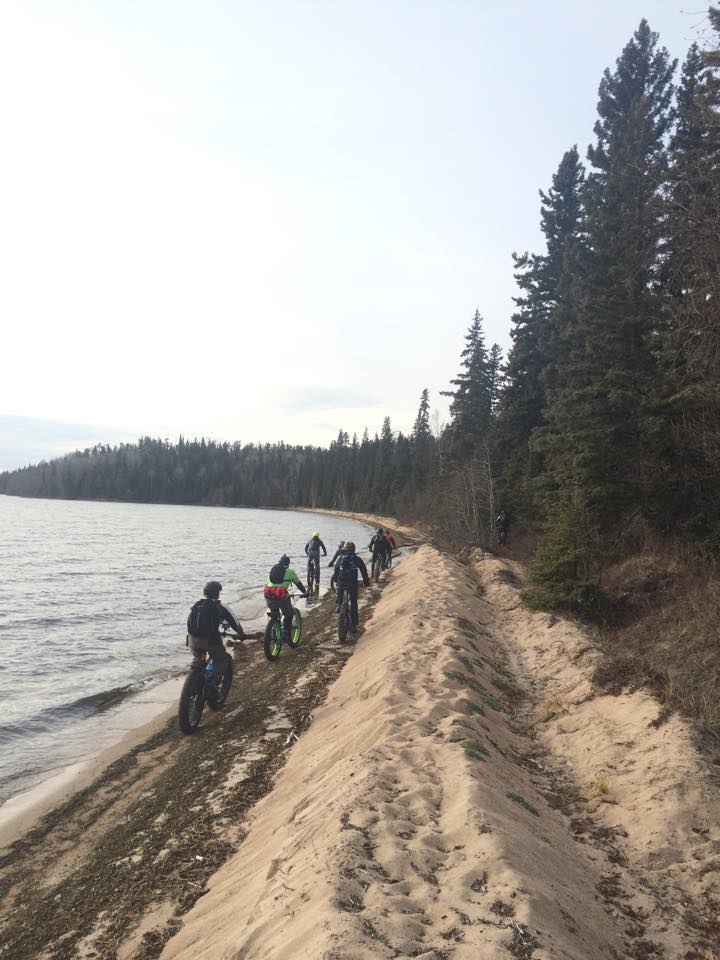 Photo credit Brad Kerr
There were quite a few boardwalks and a stair structure on the 3km path from Kingsmere to Ajawaan Lake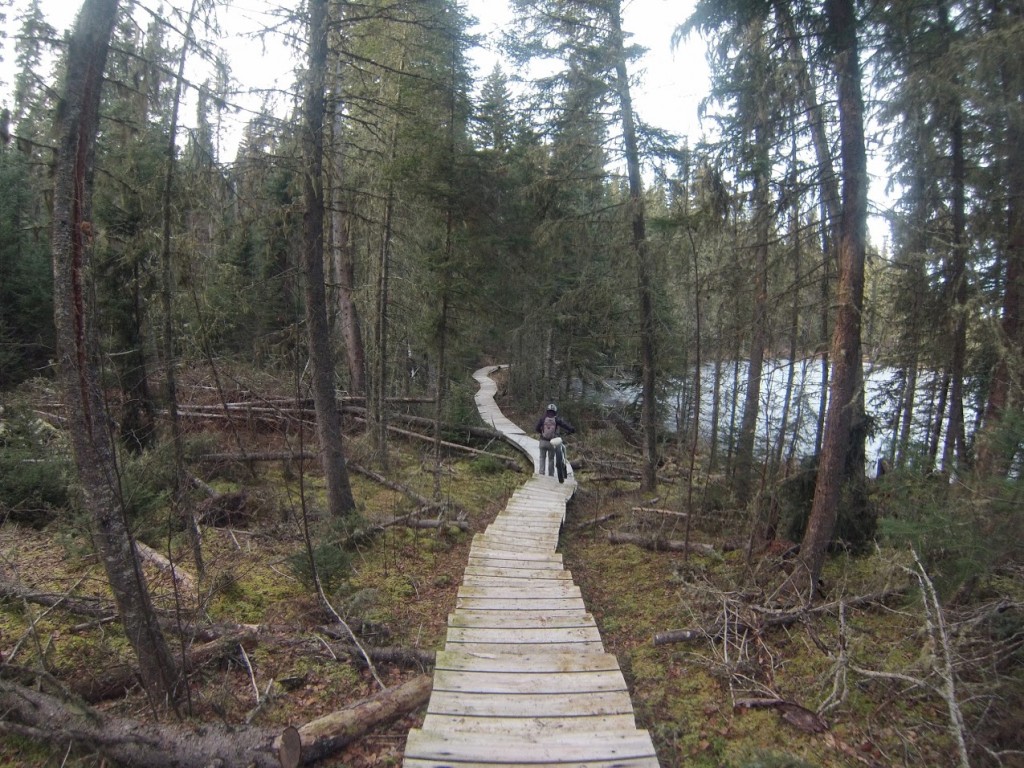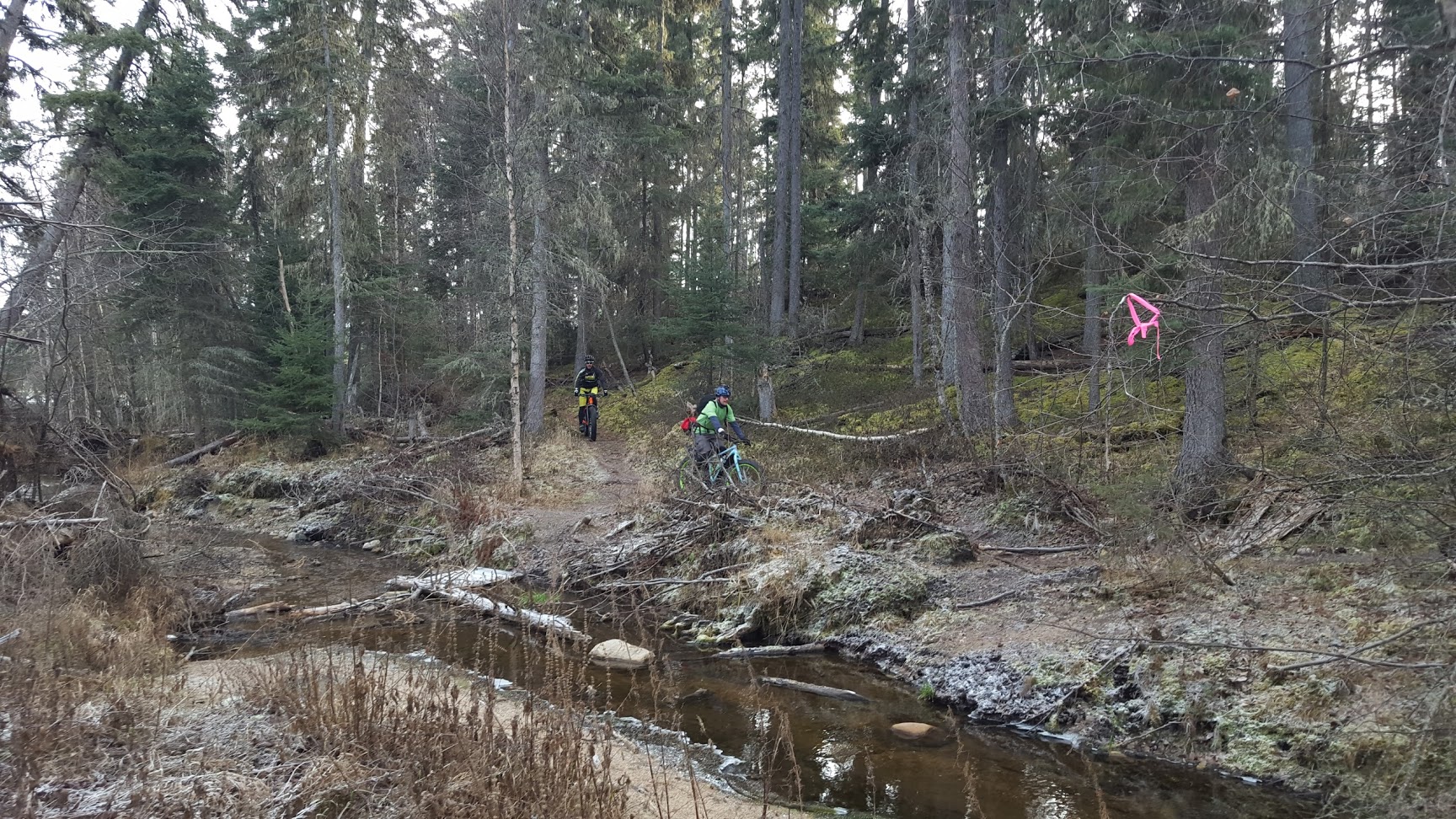 Photo credit Anthony Gossner
Some of the awesome single track encountered along the route
Destination achieved with enough time for a quick snack and relax before the 20km return trip. It was 2.5hrs one-way under pretty good conditions – only having to get off our bikes several times for downed trees or impasses.  Ajawaan lake was truly beautiful and we felt blessed to have received such an amazing November day to make the trip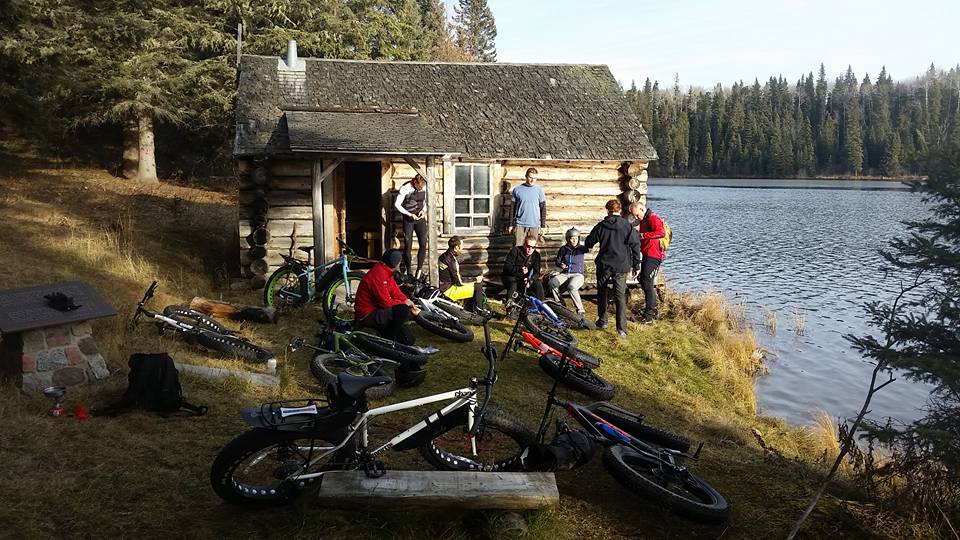 Photo credit Anthony Gossner