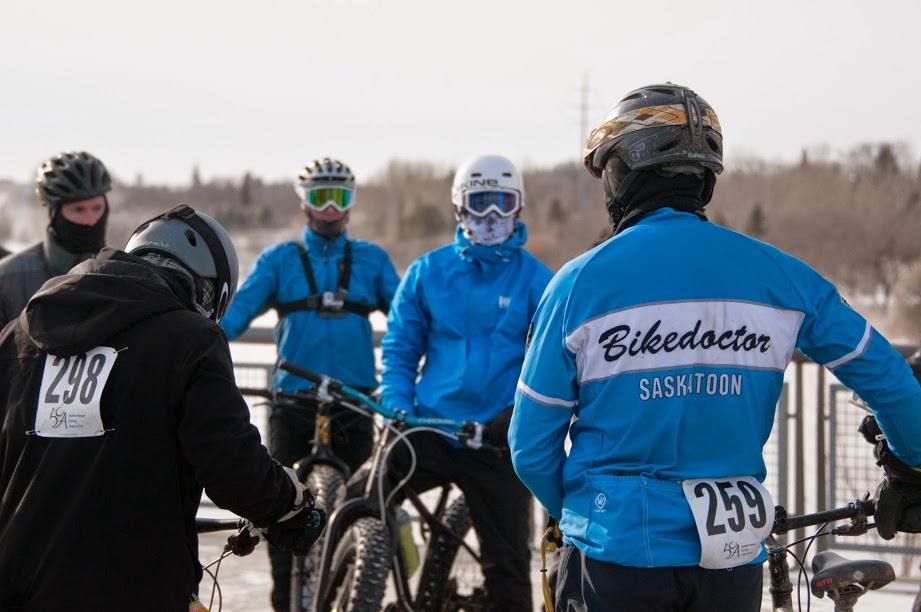 Well the first Wintershines Festival FatBike SnowCross will go down as memorable.  Twenty brave riders lined up on -30c but bright and glorious Saskie day to celebrate winter – Fatbike style.  Shout out to Mark Gibson and Brad Kerr who joined us from Regina, all the Fatlanders FatTire Brigade, and everyone who tried fatbiking for the first time yesterday.  A special thanks to Charlie Clarke who loaned Duane his bike for the day and to the Bike Doctor who got everyone else on a machine.  Congrats to Cory Zetterstrom from Bruce's Cycle Works who scampered around the course the cross the line first.  Reagan Wildeman – founder of the Pedal Wenches women's cycling group brought the purple power to the line winning the Women's event.  Sarah has the full results compiled and you can find them Wintershines SnowCross 2015 Results.  Congrats to all those who took a chance on entering such an unknown event format.  Although we kept time, declared winners and posted results for this event, it  as mostly have about getting out and playing in the snow like we used to when were 12yrs old – bravo to those who embraced the concept and romped around the course no matter where you finished.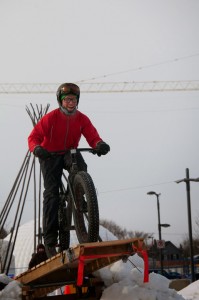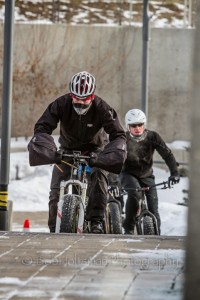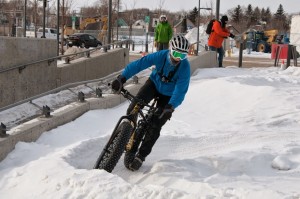 Big thank you to Sarah Robbins for taking on the race director role and supporting my efforts to create the course.  Making the course was as much fun as riding it – many moments where I was a kid again back on the farm building snow forts :-).  Quite a few nights I came home after 9:00pm from playing in the snow to find an awesome supper waiting for me – Sarah you are here best!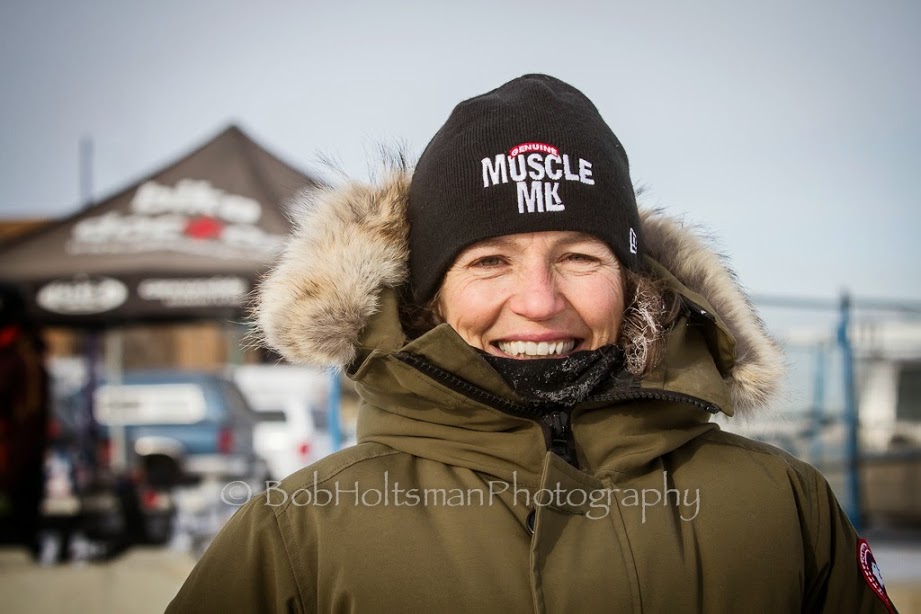 We had some great support from Bike Doctor to set up free FatBike Demo opportunities and for helping to setup the course.  Hopefully still lots of winter left and you can go rent a fatbike for a day or weekend and go checkout some of the awesome riding we have right in the city.  Thanks also for arranging support from Salsa Cycles – some great draw prizes for just about everyone – Salsa machines where definitely a dominant presence out on the course.  It was pretty neat to see folks finish an event in some truly frigid temps and still hang around the finish after to swap stories over a tasty Muscle MLK shake.  A big thank you to Mike Nederhoff and Muscle MLK Canada for supporting the event and the post race recovery and comradrie.   Thanks to the FatLanders FatTire Brigade for hosting the event – if you had a blast or would like support more events like this in the future please consider becoming a FatLanders member – only $10 – visit our website (www.fatlanders.bike) for more info on how to get signed up and help further develop fat-biking in out province.  We have group rides every Tuesday night 6:30pm from behind the Mendel and often a weekend ride as well.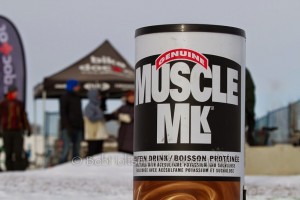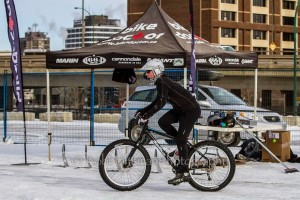 A huge thank you to all the volunteers  starting with Oleg who worked hard to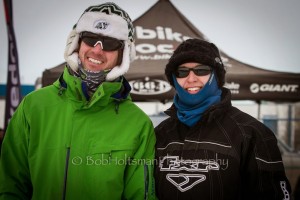 built us a massive teeter totter that became a highlight feature of the demo course.  Racing in -30c is one thing to stand on a corner for an hour is two notches up on the true Saskie pole – thank you to Becky Mang, Colin French, Jeff Charmney, Becky, CarolAnne M., Cheryl Brooke, Carmen Bell, Shaun Murphy, Scott Bell and Chase Seale – you guys rock. Not sure how these guys were able to keep their trigger fingers warm but somehow Bob Holtsman and Peter Goode where captured some amazing action shots and plenty of inner 12yr old expressions as they rode up stairs and over teeter-totters, ladders, rollers and berms.  I have included a sampling of their photos here but go check out the whole deal: Bob's album and Peter's album.  Thanks to Cam for posting a pretty cool video of the whole race to YouTube.  You can also join in on a tour of the course on the first lap in this video on YouTube.  Also, thanks to Cycledelia for lending us some hosting equipment and to Sask Cycling for the online registration and event insurance.
Thanks to the Shad, Jeff, Mandy, and Piper over at On-Purpose Leadership for organizing Wintershines and helping the Fatlanders FatTire Brigade to create and host this one of a kind event – already looking forward to what next year might bring.  Some great support from the City of Saskatoon as well – massive thank you to Dan Jean and Jeff Boone for grooming the Victoria park section of the course.  I know we challenged to the capabilities of the equipment with some of the tight sweeping turns but wow did they turn out to be a pile of fun.  It was a privilege to have the scenic Riverlanding area as part of our course and extended thank you to the City of Saskatoon Open-Spaces group for supporting our efforts to host the event.  If you had fun this year I can guarantee the course will be even better next year – some of the best terrain available in that area was under construction and behind fencing – hoping to be able to greatly reduce the paved path portions and add some snowshoed single track threads for next year.  Drop us a note if you have other suggestions and also head over to the Wintershines page and give it a like.  I will make a shorter summary post there – be great if you can share a comment in that thread to show your support for the event.
Keep those fat tires rolling and we will see you out on the trails.
Jeff – Fatlanders FatBike Ambassador.