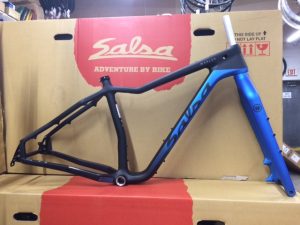 This sweet Salsa Carbon Mukluk Fatbike frame is sure to be one of the most popular auction items at the Well Groomed Fatbike FUNraiser October, 20th at Lucky Bastard.
Thanks to Salsa and the Bike Doctor for ensuring there will be BIG excitement the night of Well Groomed.
More auction items will be featured here as they arrive from Saskatoon's local bike shops; Bruce's Cycle Works, Bike Universe, and Doug's Spoke "N Sport.
Tickets to Well Groomed, A Fatbike FUNraiser are $26.06, include food by The Sasaktoon Club, your first cocktail by Lucky Bastard, and music by Robby-B.