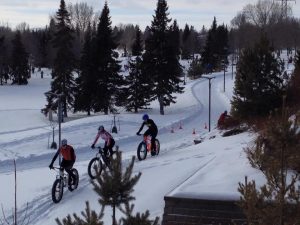 The 5th Annual Wintershines SnowFondo  is a free recreational fat bike ride of ~12.5, 25, or 37.5km with fun trails accessible for all riding abilities. This year's ride will take place exclusively out at the new Man of the Trees Winter Fat Bike Trail Network at the SW edge of the City Limits near Cedar Villa.
We are excited to feature these new trails groomed using our grooming equipment recently purchased through a Wintershines grant and the "Well Groomed Fatbike Funraiser" event we organized this past fall.
A Purple course will contain more twisty single-track requiring a bit more balance, and the Orange course will allow riders to bypass portions of the tighter single-track. This way you are able to mix and match your ride as you like.
This is not a race, rather the focus is on exposing more folks to winter recreational riding in a fun social event. We will have several leaders for various speeds and abilities and you can link up with the group that meets your fitness and experience.
Full event participation guide will be available shortly and posted here on our website. An enormous effort has gone into creating and designating these trails for Winter Fatbiking – come check them out.
If you enjoy the trails and the efforts to hold this event, we invited you to  nurture our nature with a donation to help keep them groomed and maintained for future rides. https://www.trailforks.com/region/saskatoon/karma/
For more details please click on this SnowFondo link.